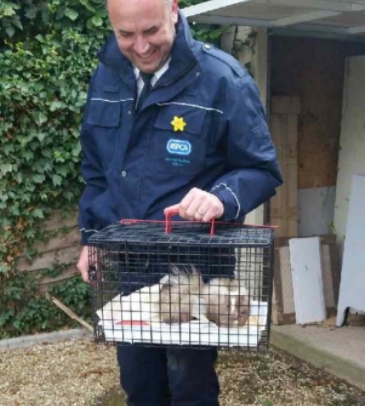 A pest controller has trapped a wild skunk in Surrey – thought to be the first time this has ever happened in the UK.
Paul Nugent was called out by a householder to capture what they believed to be a rodent seen in their garden.
Paul set a humane trap and was in for the shock of his career when he checked the trap to find not a rat, but a skunk!
It is not illegal to keep skunks in the UK, but the RSPCA strongly recommends against it. It is however an offence under the 1981 Wildlife and Countryside Act to to release skunks or allow them to escape into the wild because they are not a native species.
Paul said: "When I got up that day the last thing I thought would be happening was a client calling to say there was a skunk in a live trap. I've never seen anything like it in my 10 year career. In truth I did not really believe it until I had witnessed it first hand."
After getting over the shock, Paul arranged for the skunk, which is believed to be around three months old, to be taken by the RSPCA.
According to BPCA, this is not the first time a skunk has been discovered in the wild in Britain.
Dee Ward-Thompson, technical manager said: "A colony of skunks were rescued in 2009 in the Forest of Dean; however, there has been no reported sightings since 2013. Wildlife experts say they can endanger some of our native species so it was important the situation in Surrey was carefully handled. Fortunately, the skunk was captured by a BPCA member professional, who was able to advise and deal with the situation safely, legally and effectively."