Bee Removal
NOTICE
We would always encourage you to live with bees and while we are happy to re-locate swarms of honey bees outside the nest, please note that on ethical grounds Pest Professionals will not attempt eradication of honey bees under any circumstances. If you have a honey bee colony in an inaccessible place such as a chimney, we can put you in touch with a specialist relocation service who will discuss the options with you – just email enquiries@pestprofessionals.co.uk . We will also only ever consider eradication of bumble bees as an absolute last resort in rare situations such as where life can be demonstrated to be in danger or if important work cannot be completed without action being taken, and we will always look at relocation first.
Please LIVE WITH BEES IF YOU CAN.
Bees form complex social colonies with a single fertile queen and are an extremely valuable pollinator. As such our first priority as pest controllers when bee's nest removal is necessary is to keep the bee hive alive and intact.
The key is to find an experienced beekeeper who will accept the bee hive and look after it, and we can usually assist in this process.
Worker bees form the vast bulk of the colony and their numbers can reach over 30,000 in the height of the season. Some workers remain with the queen to tend her, feed the larvae, produce honey, produce new wax honeycombs for the larvae and guard the nest. Older workers leave the nest in the search for sources of nectar and pollen. The queen may lay a million eggs in her lifetime.
Bees are generally not regarded as pests and (unless provoked) will not attack you. The sting of worker bees is barbed and cannot be retracted, and carries a poison sac which continues to pump venom.
A small minority of people are hyper allergic to this venom and if a hive is in close proximity to people, such as close to the house, or even in it (chimneys being a prime candidate), action may be required to move it. This should only ever be attempted by an experienced pest controller or bee keeper, both of whom will wear special protective clothing.
Eradication is very much a last resort for a pest controller, and will depend on his ability to remove the honeycomb and/or seal the nest after the work is done. There is a big risk of secondary poisoning if robber bees access a previously poisoned nest and carry the insecticide back to their home colony.
How To Tell The Difference Between Bees and Wasps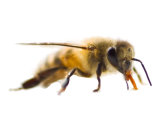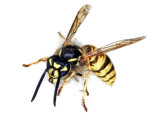 Both bees and wasps are members of the Hymenoptera order of insects, but they can be readily distinguished from each other. Honey bees are usually dark brown, with a pale orange/amber band and, importantly, they are hairy. Wasps have bright yellow and black stripes and have a narrow waste and smooth skin.