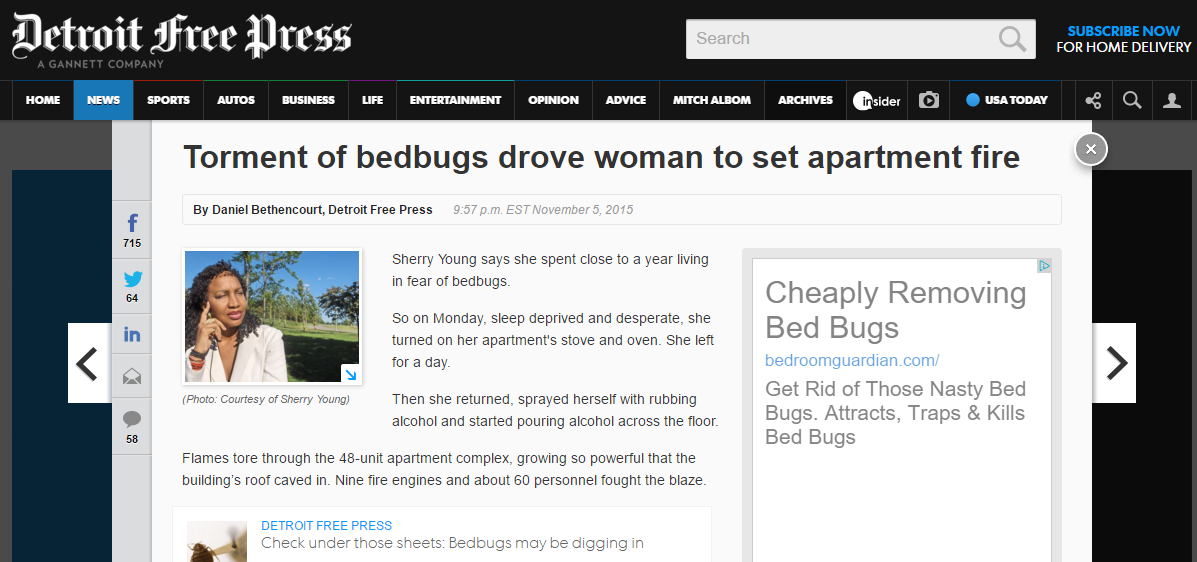 Pest Controllers who deal with bed bugs every day know all about the psychological effects they can cause, including extreme stress and sleep deprivation.
However, a woman in the United States became so desperate she took matters into own hands, and ended up burning down an entire 48-unit apartment block.
Sherry Young first became aware that she had bed bugs in her apartment at Ramblewood Apartments, near the Rouge Park Golf Course on Detroit's west side, around the start of the year. Several pest controllers attended with various insecticide treatments but the bugs always came back quickly. Bed bugs are highly resistant to insecticides, and a spray-only approach rarely works.
Sherry began searching the internet for alternatives and discovered that bed bugs are not resistant to heat. Initially she tried a steam machine, but the insects would crawl onto the ceiling and then drop down on her when she was asleep.
Young was close to a breaking point. On advice from a neighbour, she decided to try to 'heat' the bugs out and also attack them with alcohol. She bought 20 bottles from Walmart.
Sleep deprived and desperate, Sherry turned on her apartment's stove and oven and left. She spent Monday night sleeping in her car, as the apartment heated up.
On Tuesday, shortly before going back inside the apartment at 2pm, Young doused herself with rubbing alcohol.
When she opened the door the room was like a sauna. The walls were hot to the touch. Young then began pouring alcohol on the floor, one section at a time.
"I didn't know that the fumes were so ignitable," she told the Detroit Free Press.
She was pouring the alcohol close to the oven, when she turned around and saw the floor was on fire where she was standing. Her boots were on fire, and so was she.
Young ran out of the apartment, screaming for the fire department. But then, she said, she feared for her neighbours. So she turned around and ran back inside, running through thick smoke that was down to her waist and banging on doors, trying to get neighbours out.
Flames tore through the 48-unit apartment complex, growing so powerful that the building's roof caved in. Nine fire engines and about 60 personnel fought the blaze.
By the time it was over late Tuesday afternoon, the building was considered a total loss. Five people, including Young, were taken to the hospital, in what the Detroit Fire Department is calling an accidental fire. Three of the injured were firefighters. One received neck burns from a collapsing piece of the ceiling, and two others were treated for possible smoke inhalation.
Young, interviewed by phone from the hospital, was overcome with regret.
"I'm so sorry," she said, struggling to speak. "I didn't mean it. My neighbours … everybody's displaced because of me."
Gareth Purnell of British Bug Control, a UK company that specialises in bed bug eradication, said: "It's a tragic story and it's very lucky no-one was killed. We see daily the effect bed bug infestations have on people and families and lack of sleep can cause all kinds of knock-on effects.
"This a classic example of a little knowledge acquired over the Internet being an extremely dangerous thing. It's true that bed bugs are resistant to most insecticides, even the professional strength ones, and that they are not resistant to heat, which also kills the eggs. However, in no way should or could a member of the public carry out a safe or effective heat treatment.
"We specialise in heat treatment ourselves and it has to be done with the right equipment in the hands of someone with lots of experience. Done correctly, a full heat treatment is an excellent approach to an established bed bug infestation and we are so confident in it we give a 24-week guarantee.
"Lower level infestations can often be tackled successfully with a 'combination' approach using the best of the insecticides out there, and we have tested them all against resistant strain bed bugs, alongside with some kind of heat," added Gareth.
British Bug Control are the UK specialists in bed bug eradication using heat and offer treatments around all of the UK and beyond in domestic and commercial situations.
Find out more at www.cimexine.com .