Ant Control Services in the Central London Area
There more than a million different insect species on the planet, and in various forms they can bite, sting and spread disease … or just be a complete nuisance.
If you have a problem with ants or are unlucky enough to be suffering from an ant invasion at your property or place of work,the Pest Professionals in Central London can assist. Pest Professionals provide you with instant help if you have an ant issue in two extremely easy and effective stages:

The no obligation phone consultation service applies to both residential and business customers in the Central London region. No ant job is too large or too small for us to look at. Where appropriate we are able to advise on any immediate action needed to protect your health, property or possessions before a visit. If a visit is needed we let you know if there will be a call out fee and also advise on the probable charges of any ant treatment should it be required.
Ants in the UK
The most common ant found in the UK is the Black Ant or garden ant. It is seen in a wide range of habitats and is prevalent in urban and suburban locations. A heady cocktail of managed grass, flower beds and sun-warmed paving is particularly appealing to the ant. They feed upon a wide range of foods and ants living near to buildings readily come inside to feed upon food debris.
Ants live in nests which are typically located in the soil, frequently under paving slabs, in building foundations and sometimes in the cavity walls of buildings. Each nest comprises a queen ant, numerous workers (which are 2mm to 5mm in length and are the most commonly seen), some males and some juveniles. There can be thousands of ants in one nest and a nest can persist for a number of years. This species of ant produces the flying ant on humid days in summer months, behaviour associated with mating.
Ant Control
Ants can be controlled with a mix of insecticides and gel baits which can only be used by qualified pest controllers. Experience in gaining control over ant colonies is vital to gain the best results and is something we are experts in. Call now for a free consultation.
Other ant species
Red Ants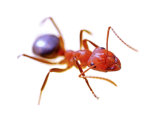 Not so prevalent is the biting ant, known as the red ant, which can often be found under debris or stones in the garden. More common in countryside than urban environments. Can cause a genuine problem when the foraging workers come indoors in search of sugary food sources. Swarms when breeding, often in August. Stings readily, creating a reaction similar to stinging nettles. Workers about 3.5 mm to 5mm in length.
Pharoah's Ants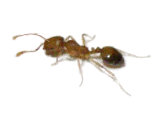 The Pharoah's ant is a tropical ant species but one that survives in the UK around heated areas. Nests are often deep-seated. Workers are light yellowish in colour with a darkish abdomen and a distinctive 'double waist'. Each nest has quite a few queens. Feeds on human foods like meat, jam, sugar etc. and may be a real problem around food preparation areas. Can swarm at any time of year.
Ghost Ants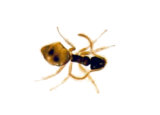 A small ant usually under 2mm in length which can be identified from its pale/ semitransparent legs and abdomen. Nests indoors in compact spaces such as wall cavities. Likes moist areas and often discovered under flowerpots in gardens. Feeds on sweet substances. Colonies can have a number of nesting sites.
If you need sound advice or rapid solutions to issues with ants anywhere in Central London or the surrounding boroughs – speak to us.