Insect Control Services in The North London Area and Hertfordshire areas
There are above more than a million different insect species on the planet, and in varied forms they can bite, sting and transmit disease … or simply be a total nuisance.
If you have insect troubles or an insect infestation at your residence or workplace we can assist. Pest Professionals provide you with immediate help in two extremely effective stages:


class="steptitle">CALL 0203 841 4760 TO TALK TO A QUALIFIED PEST CONTROLLER
class="tickred2-text">We will help you to consider your matter and provide you immediate, honest and FREE advice … with no obligation

class="steptitle">IF REQUIRED, WE ARRANGE A VISIT or ON-SITE SURVEY FOR YOU
class="tickred2-text">Your local Pest Professional will come round to sort out the problem out fast and with no fuss
The no obligation telephone consultation service applies to both residential and business customers in the North London area. No insect job is too big or too small for us to look into. Where suitable we can advise on any urgent action required to protect your health, property or belongings before a visit. If a visit is called for we let you know if there will be a call out fee and advise on the likely cost of any insect treatment should it be required.
Common Insect Pests In The UK
Beetles, lice, moths, spiders, wood lice, sliver fish, carpet beetles, flies, wasps, ants, fleas, cockroaches, bed bugs and parasites are all insects we regularly tackle. No matter what the issue, we can assist. Identification is the first step, after which we can move forward with advice on how best to tackle the problem.
A solid understanding of entomology and professional strength insecticides is needed to swiftly and effectively deal with insect outbreaks, as different insects call for different products and a varying strategy. All of our pest professionals are fully qualified and experienced in dealing with a variety of insect problems. Give us a call now for a free consultation.
Some common Insect Pests that our staff frequently tackle …
Beetles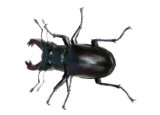 There are over 4000 beetle species in the UK. Carpet Beetles, Hide Beetles and Larder Beetles are amongst some of the most common pests. Carpet beetles are a particular indoor pest. They are very destructive to woollen items, furs, leathers, fabric furnishings and carpets, but can be effectively tackled with professional strength insecticides.
Moths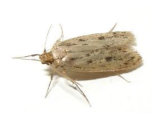 It's not the moths themselves but their larvae which are the issue as they are able to feed upon dry stored materials and fabric and can cause considerable (and costly) damage. There more than 2,000 UK moth species but four are a particular problem indoors– the brown house moth, the white shouldered clothes moth, the common clothes moth and the case bearing clothes moth. Can be dealt with traps, monitoring and heat.
Cluster Flies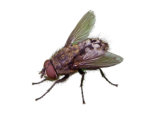 Incredibly, there are believed to more than 7,000 fly species in the UK. Cluster flies are a particular pest as they cluster up indoors in their thousands in winter months. We do however treat many types of fly problems including house fly and fruit fly infestations.
Spiders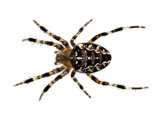 There are some 650 spider species in the UK of which only about 12 are thought to bite, including the false widow spider (pictured). Common species found around the house include the house spider and daddy longlegs spider.
Mosquitos and Midges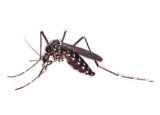 Both of these kinds of biting insects depend on water and their presence indoors may mean some focus on proofing is required. It's the females that eat your blood, but in the UK they are not believed to transmit serious disease.

If you need sound advice or speedy solutions to your insect issues anywhere in North London or Hertfordshire – get in touch.