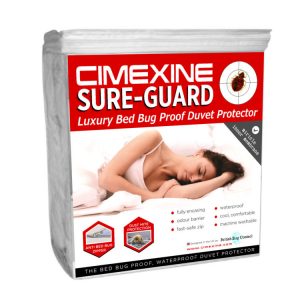 Bed bug eradication specialists British Bug Control has added to its suite of bed bug products with the introduction of a range of bed bug proof duvet protectors and cot protectors.

The company already offers the widest range of bed bug mattress encasement sizes available anywhere in the UK, and has reacted to a demand to protect duvets as well. The products are all available on the Shop at www.cimexine.com .
"Bed bugs are nocturnal and like somewhere they can tuck themselves away during the day, so the seams of mattresses and duvets are ideal," said British Bug Control's Gareth Purnell. "People often immediately throw beds and bedding away when they get an outbreak of bed bugs, but that almost never gets rid of the problem. The then often buy new duvets, pillows and mattresses straight away, before discovering the outbreak has not been eradicated at all.
"That's where the bed bug encasements and protectors come in. They have a soft breathable outer which is very nice to sleep on or under, but the inside features a PVA miracle membrane that makes it completely bed bug proof. On its own they are not going to get rid of an outbreak – for that you need a qualified and experience bed bug pest controller. However, they will keep your new items pristine, and stop them becoming infested while you take other measures to eradicate the issue."
The www.cimexine.com website also offers a range of other bespoke products including bed bug kits, bed bug sprays, bed bug powders and a bed bug trap and monitoring system.
British Bug Control also offers a range of bed bug treatments, and are the UK specialists in heat treatment for bed bugs, which is offered right across the UK and comes with a market leading six month guarantee. If you have a problem with bed bugs or suspect you have, a free and friendly no obligation consultation is offered by calling 0207 416 6671.
"We offer professional strength insecticide and combination treatments for bed bugs as well, and these can be appropriate where the infestation is relatively new and not that strongly established," added Gareth. "However, where an infestation is well established, the only approach that can be guaranteed to work is heat treatment which gets the treatment (hot air) to the where the bugs and eggs are, rather than relying on the insects coming out over a residual insecticide."